I have written this guide to help people find publicly tracked torrents
First..
Be wary of publicly tracked torrents inherent insecurity!
Anti-piracy monitors IP addresses in the swarms of publicly tracked torrents (The Pirate Bay, Kickass Torrents, EZTV, YIFY, etc) in order to send DMCA/copyright infringement letters/etc to internet service providers/universities/etc
Most universities ban P2P and monitor their networks for evidence of piracy
Having repeated violations (DMCA, notification of piracy, etc) can lead to serious consequences from your ISP/university/etc (warnings, bandwidth throttling, account termination, expulsion, etc)
Anyone using publicly tracked torrents should seriously consider using a VPN to mask their IP address
Using a VPN will disguise your IP address, encrypt your internet traffic and hide the fact that you are using bittorrent from anyone monitoring you (your ISP, your university, etc)
or.. consider switching entirely to private torrent trackers (while possibly using a seedbox to avoid bans on P2P)
Anti-piracy rarely monitor the IP addresses in the swarms of private torrent trackers
More information about anti-piracy/copyright trolls/etc
eff.org/issues/copyright-trolls
en.wikipedia.org/wiki/Copyright_Alert_System
eff.org/deeplinks/2013/02/six-strikes-copyright-alert-system-faq
torrentfreak.com/comcast-terminates-accounts-of-persistent-pirates-131002/
torrentfreak.com/att-threatens-persistent-pirates-with-account-termination-130913/
torrentfreak.com/six-strikes-anti-piracy-scheme-starts-130225/
torrentfreak.com/search/six+strikes
Second..
There is a major difference between a publicly tracked torrent index (TPB, KAT, EZTV, etc) and a public torrent tracker (OpenBitTorrent, PublicBitTorrent, istole.it, etc)
There are major differences between publicly tracked torrent indexes (TPB, KAT, EZTV, etc) and private torrent trackers (What.cd, IPTorrents, etc) Read about the differences between the following
wikipedia.org/wiki/BitTorrent_index (site)
wikipedia.org/wiki/BitTorrent_tracker (tracker)
wikipedia.org/wiki/BitTorrent_tracker#Public_trackers (public tracker)
wikipedia.org/wiki/BitTorrent_tracker#Private_trackers (private tracker)
google.com/search?q=public+and+private+torrent+trackers
Third..
I recommend using one of these 4 Bittorrent Clients
I do not recommend using any other clients (Vuze, BitComet, BitLord, etc)
Nearly all other clients are unstable, inefficient and/or malicious
Then..
Use a combination of these 3 steps
1) Search on Google (search for the name of the content + torrent)
Example search > google.com
2) Search a multi-search like Torrentz.eu or Torrentproject.com
Example search > torrentz.eu
Example search > metasearch.torrentproject.com
Example search > torrentproject.se
Alternate Torrent Search Engines
scrapetorrent.com
torrentus.si
btdigg.org
btindex.org
torrent-finder.info
torrents.to
torrenttree.com
filelisting.com
torrentbox.sx
thepirategoogle.com
3) Search public torrent indexes individually
Example search > kickass.to
Here is another example of this process > extratorrent.cc
Torrentz.eu also has a fairly comprehensive list of the most popular indexes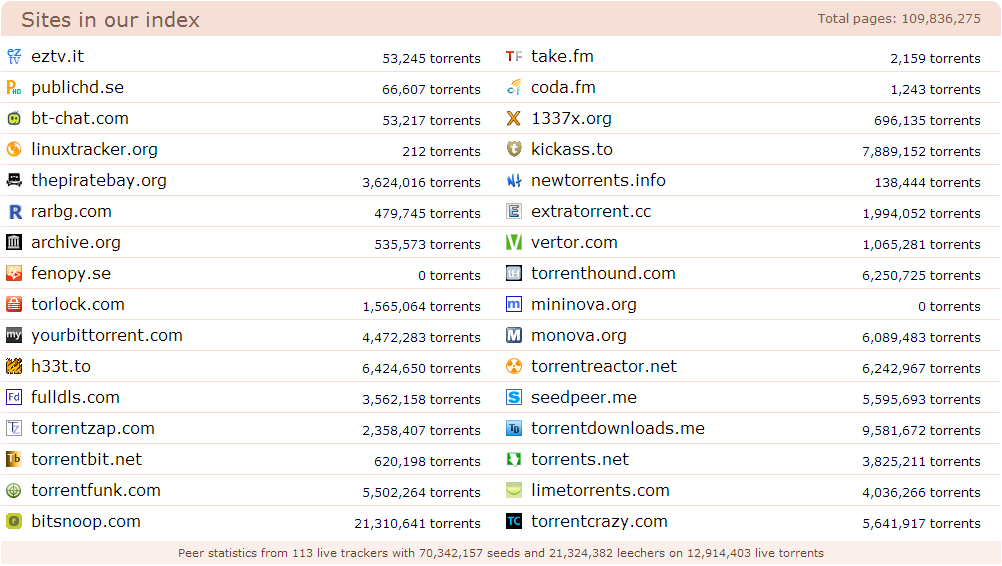 (from: torrentz.eu/help#indexed)
Tips for Searching more Efficiently
1) Be as specific as possible with keywords
2) When looking for specific content, limit the keywords to the most central word(s)
3) Sort by size, date, peers (popularity)
4) Search for the content by itself and inside a large pack
5) If there are multiple releases with the same name from different years, include the year
More publicly tracked torrent search engines, proxies, indexes, trackers, etc @ /links/publicly-tracked-torrents/