On April 16th, 2013.. I received an email from Google Adsense informing me that after over 6 months of supplying my website(s) with ads, they would not be continuing to allow me to use their services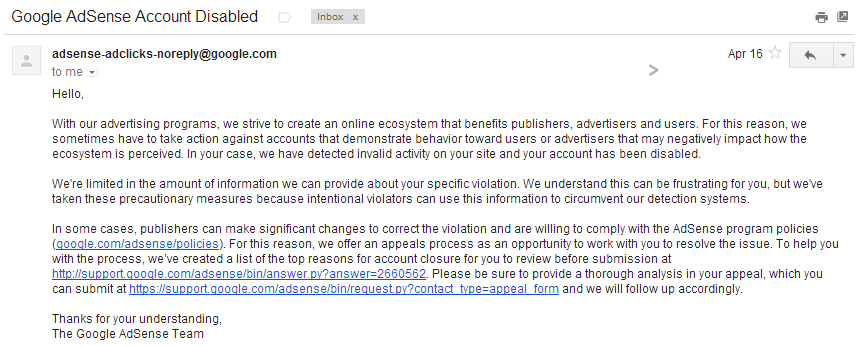 I immediately appealed the disabling of my account
However.. to no avail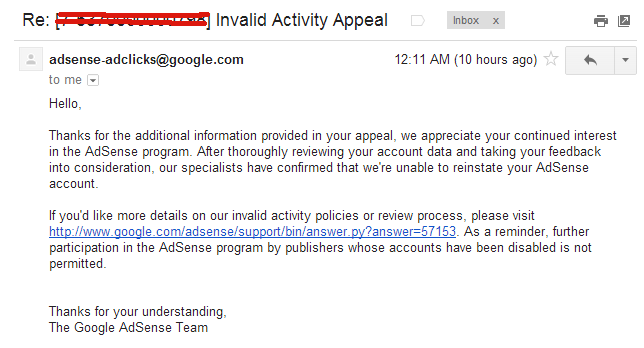 Unfortunately, Google decided to disable my Adsense Account about $10 away from the minimum payout amount of $100 (USD)..
So for 6 months of supplying Google's Advertisers with 400,000+ pageviews..
..I receive no money
This blog's servers only cost a few dollars a month to keep running..
I do not need the revenue to maintain this website
However, in an attempt to keep generating any sort of revenue from my traffic without being obtrusive (xxx ads, popups, pop-unders, text-link hijacking, etc)..
..I explored Adsense alternatives
After applying to several alternative ad companies, I received the following responses
INFOLINKS
MEDIA.NET (YAHOO! BING)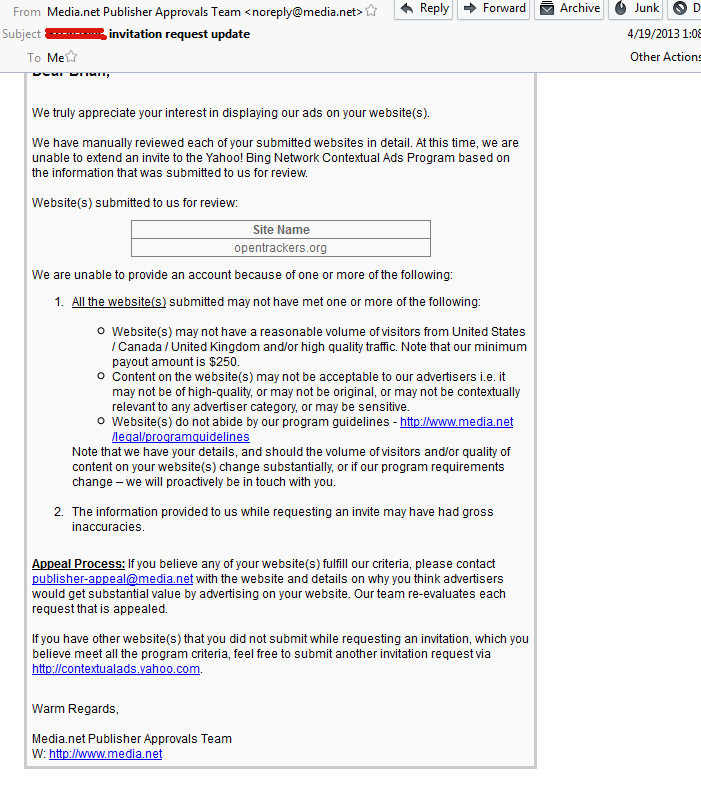 Ultimately, the ad company Clicksor allowed me to join and from April 20th, 2013 until May 9th, 2013 I displayed Clicksor's advertisements on my blog
However.. I have decided not to continue my relationship with Clicksor after the following events transpired on the night of May 9th, 2013
At approximately 16:37:00 on Thursday, May 9th, 2013..
..my website began to be blocked in both Google Chrome and Firefox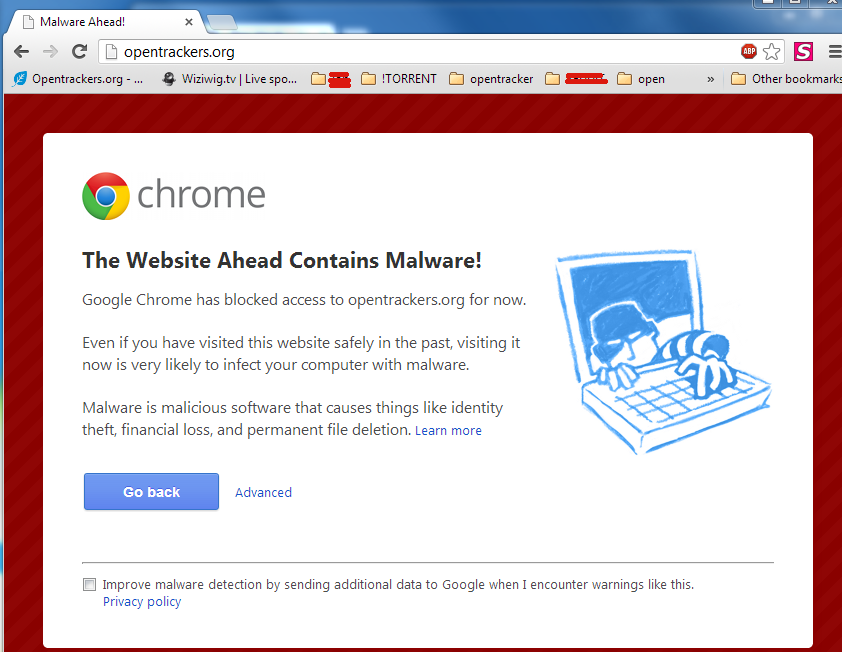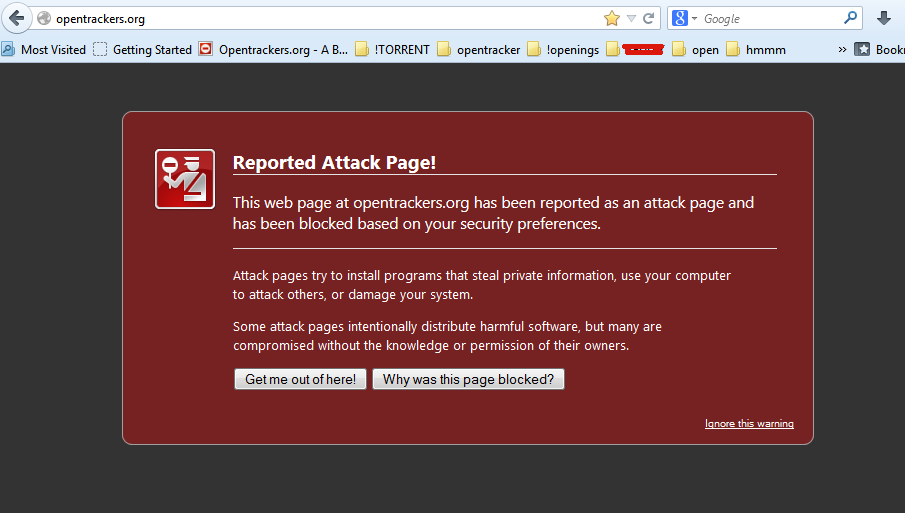 I immediately investigated further, viewing the "Why was this page blocked" link on the Firefox Page, which reported my Clicksor Ads as having malicious code active at some point
Although I did not take a screenshot of this message, this is verbatim what it told me..
Upon visiting my Google Webmaster Tools account, I discovered a further message pointing towards the Clicksor Banner Ads as being the culprit..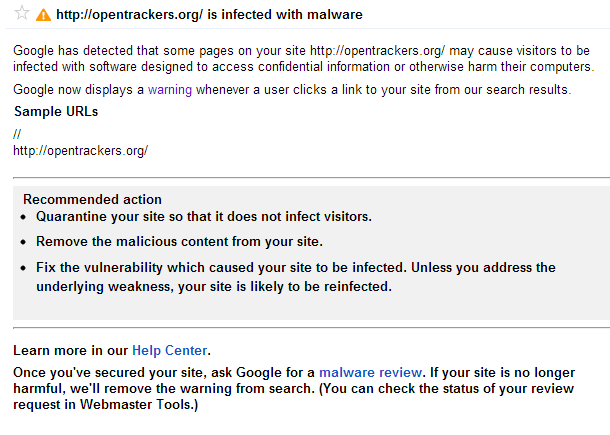 ..this included a direct quote of the exact code responsible: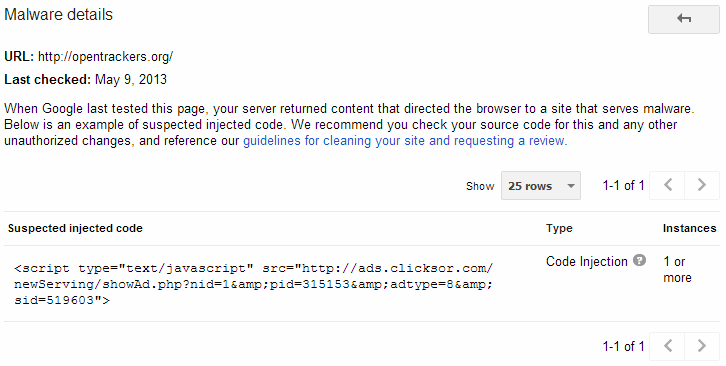 In addition to my website being blocked by direct links in Firefox and Google Chrome, Google's Search Results lead to google.com/interstitial?url=http://opentrackers.org/
..this disabled my PageRank and my Traffic from Google until the issue was resolved
At this point, I received an email from my Web Host (1and1):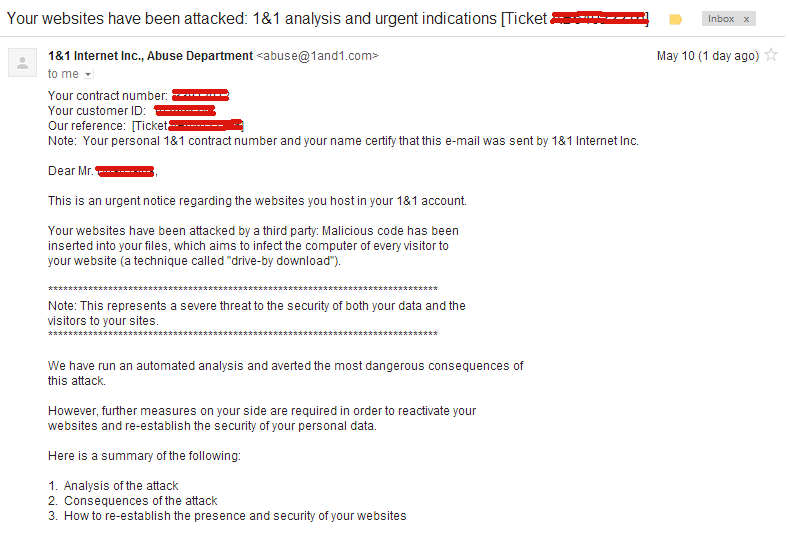 ..as soon as these events transpired.. my webhost automatically changed the FTP login of my websites server and the permissions of the effected file (the index.php of my wordpress)
..this caused my website to resolve as such:

At this time, I immediately removed the Clicksor Ads..
I then performed the following procedures:
1) Logged into my 1and1 control panel
2) Changed my FTP Password
3) Logged into my FTP Server and changed the permission of my index.php back
4) Logged into my Google Webmaster Tools account and requested a Secondary Report be made of my Website to analyze the existence of said Malware.. this required me to provide proof I took steps to remove the malware
After a few hours, Google removed the interstitial and the Google Chrome and Firefox Warning Blocks and reported via my Google Webmaster Tools that my website was now malware free
However, based on this blatent, horrible negligence on Clicksors part..
..I will not be continuing Clicksor's advertisement publisher services in the future
I have sent them an email that includes the information detailed in this post suggesting they investigate this further..
In all honesty, I had been planning to stop using Clicksor's ad services after the first several days of displaying their ads on my blog. With Google Adsense, in the past 2-3 months, and with the roughly 1,500 unique & 3,000 pageviews of traffic I have been getting a day..
..I was making between $.50-$3.00 a day on average
This is absolutely not the case with Clicksor: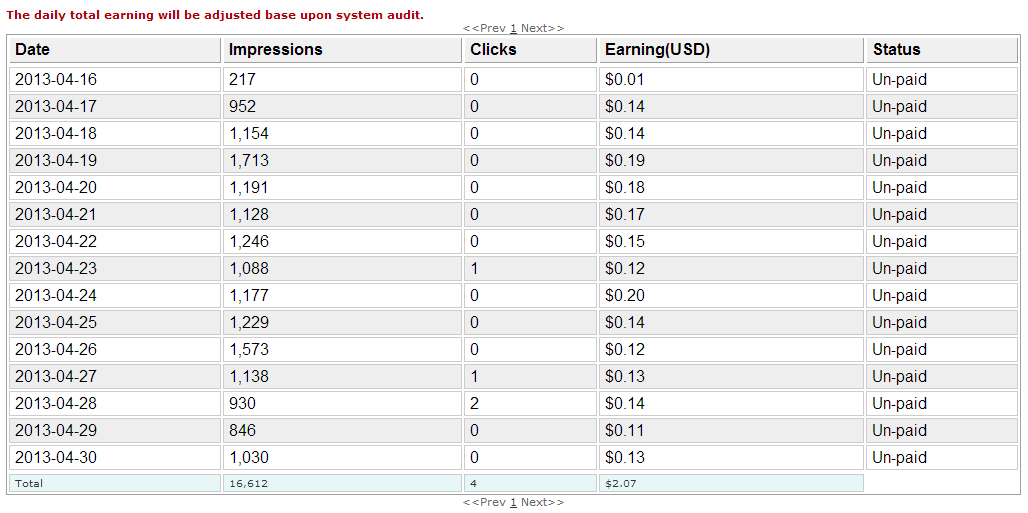 In the wake of these events.. I decided to apply for an affliate account with Private Internet Access, one of the best and most respected VPN providers
As of yesterday.. Friday, May 11th, 2013.. I was accepted as an Affiliate
I have inserted Private Internet Access's ads onto my blog, my web-based proxy and all of my respective error pages (404, 403, etc)
I do not plan on replacing these affiliate links anytime in the future, barring some unforeseen events ..hopefully these type of events do not arise
TorrentFreak article related to this issue from July 15th, 2013
torrentfreak.com/tech-giants-sign-deal-to-ban-advertising-on-pirate-websites-130715/