While I attempt to keep Opentrackers.org as complete and up to date as I can, there are many alternate methods for finding open signups and other Private Torrent Trackers not already included on this blog
I use many resources to keep this blog updated The primary resources I use to find out about limited signups are Invite Forum Sections for Open Signups I do not recommend anyone actually use these or any non-Private Tracker or otherwise allowed Invite Forums for anything other than browsing In fact, even having an account on an Public Invite Forum can be risky and possibly lead to a red-flag situation or a potential ban
I have the first 4-5 of these sections bookmarked in a folder in Google Chrome and tab them open 2-3x a day to check the latest posts for limited signups

Over the nearly 10 months I have operated this blog, I have become fairly familiar with most of the largest Private Trackers, making noticing limited signups relatively easy
I have compiled (and continue to seek out) many lists/forum sections/blogs/etc for Private Trackers and add them to this list
I also use these links to find new Private Trackers to add to the blog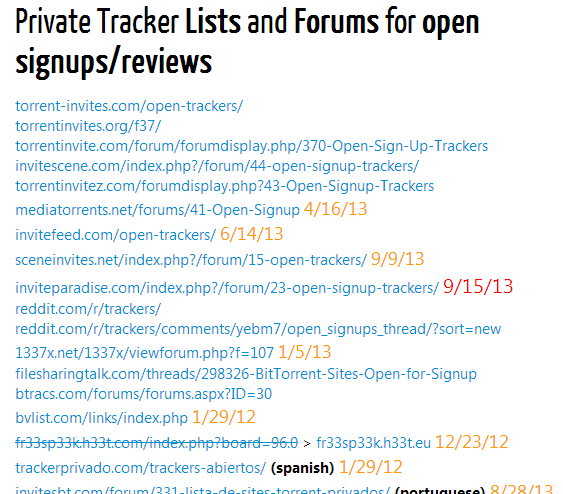 Even with 400+ reviews currently on this blog, I routinely find well maintained, functioning Private Trackers with open signups that I have never seen before using these lists/forum sections/blogs/etc
While Opentrackers.org has only ever included Private Trackers that are in some way open to the public in some way or another (open signup, donation signup, application signup)..
There are many, many other Private Torrent Trackers that have not had any form of public signup method during the time I have maintained this blog (or ever)
I specifically mention some of the most notable in this comment on Reddit > /c8wgo2z
..a majority of the rest can be found using the the above mentioned list
The only legitimate ways to find invites to a large % of these Private Trackers (outside of being given an actual invite by a member you know) are..
Officially Allowed Recruitment Threads
Officially Allowed Invite Giveaways
Internal Private Tracker User Class-Restricted Invite Forums
While some Private Trackers have lax feelings about invites being given away in public forums (ie: /r/trackers consolidated invite thread, /r/invites, etc)..
..a good % do not allow this and specifically mention it as a ban-worthy offense
One of the most common causes of Private Tracker users finding themselves banned from one or more Private Trackers is receiving a public invite from a user who has been (or will be eventually) caught selling/trading invites/accounts or some other ban-worthy offense
When a member is caught selling invites, trading invites, hacking & stealing accounts, selling accounts, etc.. often their entire invite-tree is banned too
Receiving an invite from a public forum is risky at best
TorrentFreak article about the Private Tracker Global-Ban System
/private-torrent-sites-run-their-own-mini-prism-to-share-data-on-users-130908/
Before taking everything in the above TorrentFreak Article as fact
Read the various rebuttals below..
/r/trackers/comments/1lyzyn/private_torrent_sites_run_their_own_miniprism_to/
/r/Piracy/comments/1lyx33/private_torrent_sites_run_their_own_miniprism_to/
The healthiest, safest alternative is to join trackers via open signups, application signups, donation signups
..and the following method
Many Private Trackers have Internal User Class-Restricted Invite Forum Sections where-in users of a certain user-class can acquire Official and Legitimate invites for other Invite-Only Private Trackers
One of, if not the most common method for gaining access to one of these Forum Sections is by the following steps..
1) Joining What.cd via their Interview Process
2) Maintaining and progressing ones account to the Power-User Class (pu+)
3) Gaining access to the What.cd Internal Private Tracker User Class-Restricted Invite Forums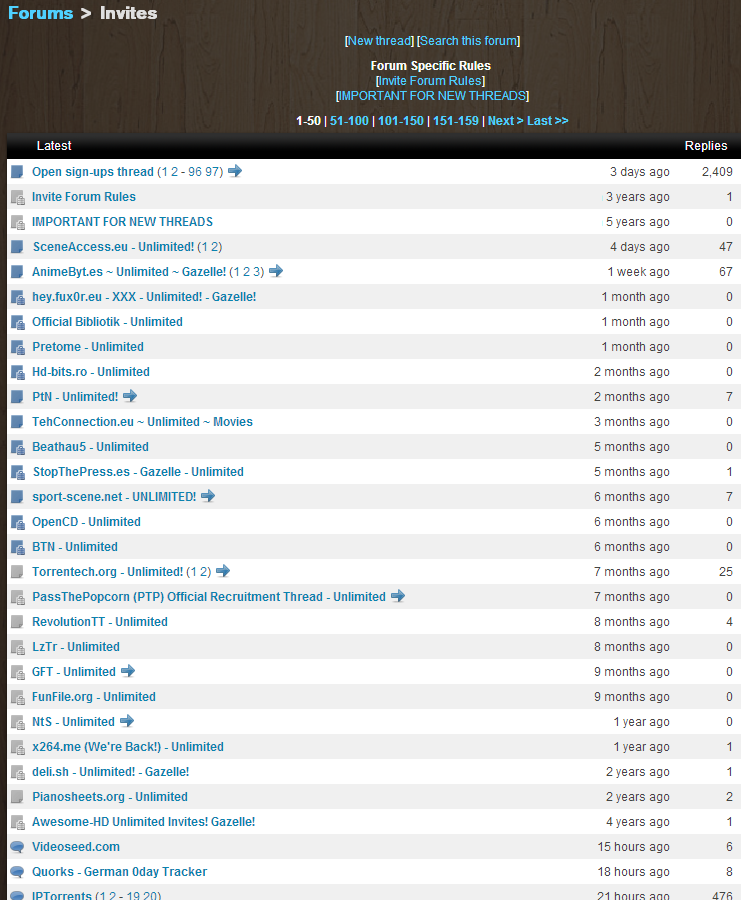 What.cd is unique due to the fact that it is the sister-tracker to some of the largest, most well maintained Private Trackers (notably PTP and BTN) and godmother to many, many more
..all while maintaining an open and well-maintained interview process
Many other large, well maintained Private Trackers differ from What.cd in that they don't have user-class restricted invite forums..
..or they are restricted to VIP (paying) members
..or they are not well maintained and/or shady (ie: they allow invite-trading)
Another example of a well maintained tracker with a relatively accessible entry process and official invite forums for many of the best Private Trackers is baconBits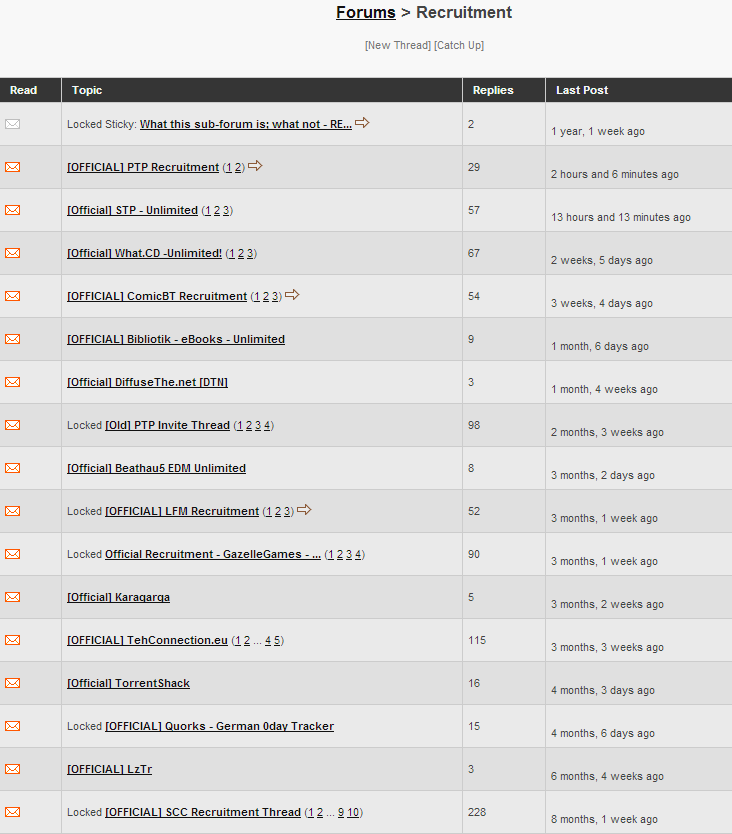 If you belong to a Private Tracker, check to see if your user-class allows you access to a user-class restricted invite forum (or find out if any of your trackers have these forums and work on progressing your user-class)
Be a friendly, healthy, respectful Private Tracker user and develop friendships within the communities..
Many people have legitimate, safe invites
You don't need illicit invites!
Acquire your invites legitimately or NOT AT ALL!